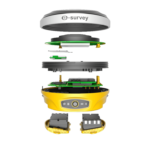 E600
Working next to a building and under trees? No problem!
The E600 receiver uses the new generation of Athena RTK engine, effectively improving RTK initialization success rate and initialization accuracy in harsh environments, and supports long-baseline RTK solution, which is an effective guarantee for high-efficiency and high-precision RTK operations. A major feature of the E600 are the Hot Swappable Dual Batteries.
A 1 watt radio allows for a 4km range so you can get more accomplished – faster!
OVERVIEW
1. Multi-Constellation and Multi-Frequency
With 800 channels of GNSS tracking, the E600 provides stable and reliable accuracy. All GNSS signals come standard including GPS, BDS, GLONASS, GALILEO, QZSS and SBAS
2. MEMS Dynamic Tilt Survey
eSurvey's innovative tilt sensor has been adapted to fit all work environments and can be ready within 10 seconds. Get your work done faster with few stops with the tilt-to-go capabilities a maximum incline angle of 60 degrees provides.
3. L-band Atlas
Atlas is a service to provide global precision correction service over L-band satellites. With ATLAS you can achieve centimeter accuracy WITHOUT any base station.
4. aRTK
aRTK technology operates in any Atlas-capable devices by enabling it to maintain RTK-level accuracy, availability and reliability when RTK corrections fail – with no additional cost!
5. Web UI
Gives you the ability to view position status, set up working mode, download data and update firmware from Web user interface with any phone, tablet or PC.
6. Intelligent Voice
The E600 automatically broadcasts voice reminders when the solution status is changed and has the ability to manually broadcast the current working mode and solution status by short pressing the power button.
7. Hotswappable Dual Batteries
Dual batteries to support up to 10 hours of work time. Without powering on the device, you are able to check the battery level on the LED indicators by clicking the power button. Never go out without a full battery!
8. Built-in Dual Radio
Built-in dual radio (410 – 470 MHz, 902.4 – 928MHz) supports more protocols and with a transmit power of 1W, effective working distance is up to 5km in the optimal work environment.
9. Rugged Design
The E600 main body is built using magnesium materials to provide strong shock and vibration resistant characteristics. IP67 certification ensures operation in tough environments.
Description
SPECIFICATIONS