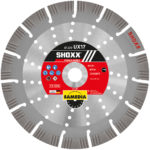 Shoxx UX17
The SHOXX UX17 is a top-quality diamond blade made with SHOXX technology. Very fast and sustainable, it's a long-term solution for professionals. A cut above!
Description
Key points :
HIGHEST SEGMENT HEIGHT ON THE MARKET: 11/16″.
High-end diamond blade – Made in Germany.
SHOXX forged segments = exceptional longevity & resistance.
Laser welded segments.
Segment height: 17 mm.
Cutting speed: twice faster than any conventional products.
Blade lifetime: twice longer than competitors.