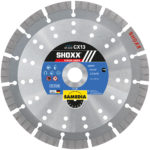 Shoxx GX13 SILENCIO
The SHOXX GX13 SILENCIO is a swift and powerful diamond blade. Not only does this tool cuts granite like butter, but it splits it in silence. We called it "The gun silencer"!
Description
High-end diamond blade with SHOXX forged segments
Segment height: 1/2″
Low vibration & clean cut
SILENCIO : maximum noise reduction
Sandwich steel core
Particularly suitable for table saws
Made in Germany
Laser welded segments
Blade lifetime : 2x longer than high-end blades from competitors.