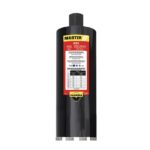 Description
The MASTER DBK is a high-quality diamond core drill. Versatile and highly efficient for any drilling.
Key Points
Premium wet core drill for fast cutting
Laser welded segments up to 

10"

Hub Thread 1-1/4''- 7
Segments height : .393
Can be used for wet and dry / working length 450 mm
Optimum drilling properties thanks to TURBO ROOF TOP segment
Ideal for operations with drill rig
Made in Europe
Optimum Use

Reinforced concrete
Brickwork
Sand-lime brick
Suitable

Related Machines

Coring machine with stand
Coring machine freehand
Wet cut
Tip : switch between different materials to increase this product's lifetime.
The MASTER DBK is suitable for USA, CANADA and EXPORT markets.